Services We offer
Therapy for Emotional, Behavioral, and Parenting Challenges
We offer a broad range of specialized therapy services for families with children of all ages, from preschoolers to teens.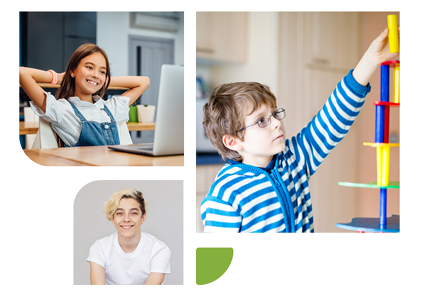 We serve children from preschoolers to teens.
We believe that children's and teens' difficulties are best addressed through a comprehensive approach. In partnership with families, we design treatments that respects the individuality and needs of each child and teen, support the whole child and family, and promote healthy and positive development across environments.
How we can help
Some of the challenges we address in children:
Emotional intensity, difficulty self-calming and being soothed
Difficulties sustaining attention, hyperactivity and/or impulsive behaviors
Excessive fears, worries, or challenges with new people and situations
Behavioral or learning challenges at school or child care
Overly aggressive behaviors
Intense and/or persistent fears
Sleep difficulties
Trauma, loss and grief
Low self-esteem
Peer and sibling relationships, including bullying or being bullied
Adjustment to prepubescent and pubescent physical and emotional changes
Poor response to typical discipline strategies
Stress associated with daily life, divorce, loss, or trauma
Parent/ child relationship challenges
We help families with stresses such as:
Single parenthood
Loss and grief
Meeting and balancing the demands of daily life
Developing unified or collaborative parenting strategies
Building secure parent-child relationships and strong families
Finding an effective balance between nurturing and limit-setting
Fostering children's strengths, independence, and success
Intervention includes a tailored combination of the following to meet the unique needs of each child or teen and family:
Therapy sessions with child or teen; sessions with child and parents together 

 Parental guidance sessions to teach parents skills to support their child 

Consultations with school staff and other professionals

Consultations with school staff and other professionals