Services We offer
Social Skills, Drama and Therapy Groups
Groups can help kids connect with each other, feel valued and successful, and know that they're not alone in their struggles while simultaneously enjoying real, supportive and positive social experiences.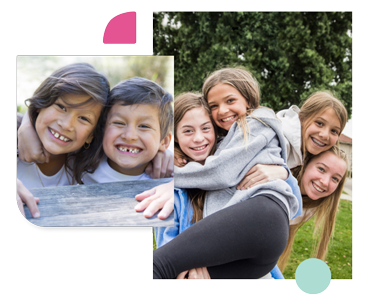 Social skills and therapy groups
Children naturally learn through interactions with their peers, making group therapy an ideal venue for developing emotional and social skills. Group therapy offers a supportive, goal-oriented environment that works with the strengths of each child to help them address emotional challenges, feel calmer and more confident and in control of their own well-being. We work to empower children in the group through role play, team-building exercises and direct coaching, to strengthen essential emotional and social skills such as social awareness, problem solving, emotional regulation, and conflict resolution.
Drama Therapy
A richly dramatic story is irresistible to children. Via an exciting storyline, children are motivated to play together cooperatively, to invent and follow rules that make play satisfying. Once they fully engage in a scenario, they help determine the outcome by experimenting with various choices. To do this, the players must communicate and negotiate with each other as the characters in the story. This setting enables the therapist and child to shape behavior through direct experience, emphasizing not just what to do in a given situation (behavior), but why (understanding) and how (through practice).
Please note that drama therapy is a complimentary intervention and therefore is not covered by health insurance, though it may qualify as an eligible expense for medical savings accounts.
What you can expect
Once you call or email our patient coordinator with an inquiry about groups, you will be contacted to arrange for an initial, 15-minute telephone call, at no charge,to discern whether and which group(s) may be a good fit for your child.
If there is a potentially appropriate group, you will be invited to come in with your child for an initial interview, so the therapist can ensure there is a good fit for your child's needs.
If there is a match your child will attend weekly group sessions. If a match is not found right away, then we will keep your child in mind as new groups form.