Rachel Guetlein, MA
Licensed Professional Counselor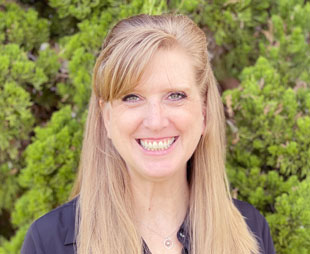 Rachel holds an MA in Clinical Mental Health Counseling from Antioch University, New England, as well as an MBA and a BA in speech communication from California State University, Fresno.
A member of the International Expressive Arts Therapy Association, Rachel is currently pursuing postgraduate certification as a Registered Expressive Art Therapist (REAT). She works with children, adolescents, and families, and specializes in behavioral issues, anxiety, depression, ADHD, and Autism Spectrum Disorder. Rachel uses a wide range of evidence-based approaches, including Cognitive Behavior Therapy (CBT), Acceptance and Commitment Therapy (ACT), and play therapy. Rachel is also trained in the use of Positive Discipline, the Nurtured Heart Approach, and Supportive Parenting for Anxious Childhood Emotions (SPACE).
Rachel has experience with crisis and trauma counseling, with focus on grief and loss due to suicide. She has also led substance abuse treatment groups, and counseled individuals and families impacted by drug and alcohol addiction for Virginia ASAP (Alcohol Safety Action Program). Additionally, Rachel has been providing childbirth education and support as a birth doula for over 18 years. She utilizes tools of mindfulness, expressive arts, and play to support the growth and development of her clients in an atmosphere of warmth and acceptance.